All classes are held at
141 Kalakaua St, Hilo, HI 96720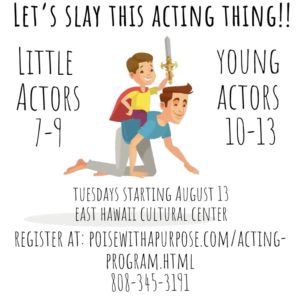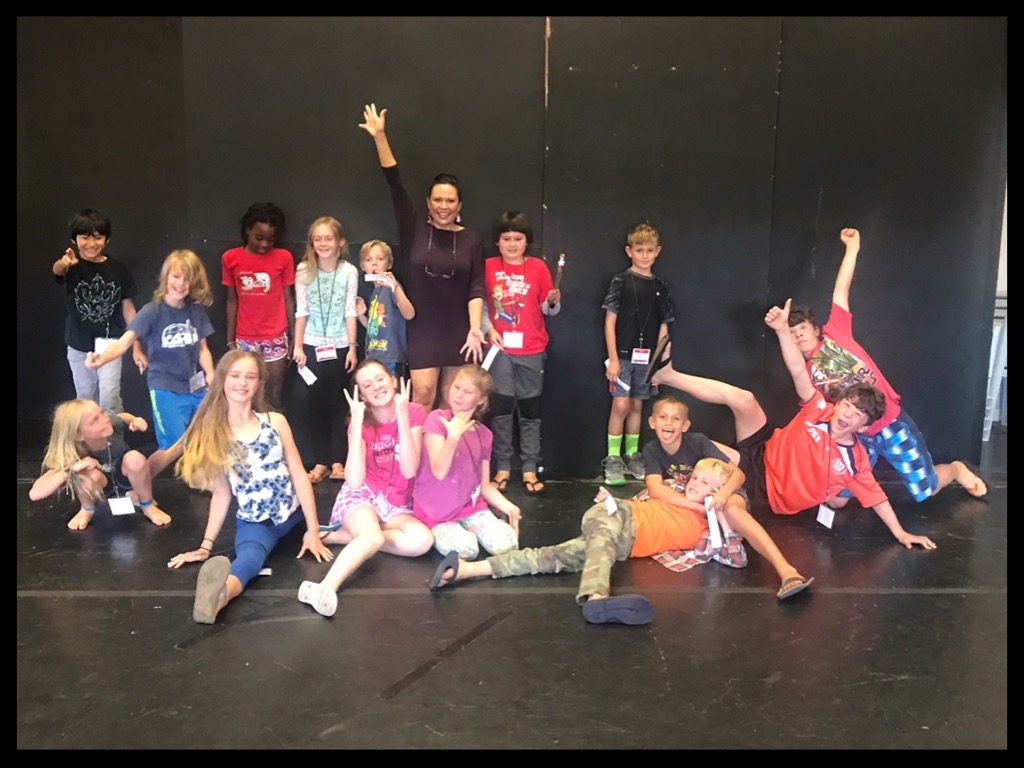 Acting is the work of an actor or actress, which is a person in theatre, television, film, or any other storytelling medium who tells the story by portraying a character and usually, speaking or singing the written text or play.
Acting requires a wide range of skills, including vocal projection, clarity of speech, physical expressivity, emotional facility, a well-developed imagination, and the ability to interpret drama. Acting also often demands an ability to employ dialects, accents and body language, improvisation, observation and emulation, mime, and stage combat. Improvisational theatre, often called improv or impro, is a form of theater where most or all of what is performed is created at the moment it is performed. In its purest form, the dialogue, action, story, and characters are created collaboratively by the players as the improvisation unfolds in present time, without use of an already prepared, written script.
Many actors train at length in special programs or colleges to develop these skills, and today the vast majority of professional actors have undergone extensive training. Even though one actor may have years of training, they always strive for more lessons; the cinematic and theatrical world is always changing and because of this, the actor must stay as up to date as possible. Actors and actresses will often have many instructors and teachers for a full range of training involving singing, scene-work, monologue techniques, audition techniques, and partner work.
I Got D.I.S. (Drama, Improv & Song)
For Young Actors
"I Got DIS!"
This fun-filled class for children, provides a venue for young actors to express themselves through Drama, Improv & Song (DIS). Acting through drama and improv helps children to learn how to actively listen, communicate verbally and non-verbally, be open to ideas, respond quickly in the moment, use imagination, collaborate, effectively use emotions, be more engaging, be flexible to change, and be more aware of what's going on around them. Although we will not be learning to sing in this semester program, children will be learning breathing techniques, pitch, tone, and vocal projection that will help them with vocals for stage performances.
Registration in Open!
Classes begin Tuesday August 13, 2019 and will end with a collaborative Showcase on December 6, 2019
Little Actors (ages 7-9) 4:00-5:00PM
Young Actors (ages 10-13) 5:00-6:00PM
$160 per semester plus $10 registration and Script fee
If you are enrolling 2 or more of your children, an optional half payment by check and half payment on post-dated October 5th check made out to Astania Caputo, is acceptable. Both checks are due no later than August 6th, one week prior to beginning of class. Checks/registration past August 6th, a $5 per child late registration fee will apply.
Mail payment to:
Astania Caputo
PO Box 492732
​Keaau, HI 96749
​
Classes will be held at The East Hawaii Cultural Center
Upstairs in the THEATRE
141 Kalakaua St., Hilo